Artwork by Joel Long - Authentic Paintings & Prints
Welcome to Floating Picture World. This collection of watercolor paintings was created by the hand and imagination of Joel Long.  The skill he has developed throughout time is displayed in grave detail, and the layers of background shading have unimaginable aptitude, and influence. Each individual painting is masterfully created with the illusion of depth and space.  These paintings are then carefully transferred to a silk cloth material and made into silk scrolls. 
Featured Custom Prints on Silk Scrolls
Painted with inspiration. Crafted for your enjoyment.
Enjoy the color and design these watercolor painted silk scrolls will bring into any living area. The exceptional detail and background shading effects of these magnificent pieces of artwork will leave you in awe.
View All Original Paintings
NEWEST ADDITION TO OUR SILK SCROLL COLLECTION
The following silk scroll is one of our newest additions to our growing collection. Enjoy the stylish designs and lineup of these colorful pieces of artwork. The quality of each individual painting is exceptional, so we are confident that you will be more than happy with your purchase.
Information About Our Silk Scrolls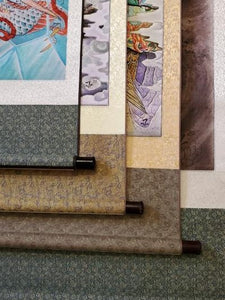 Luxury Materials
Artwork is painted onto non-absorbance silk paper. It is fixed onto a four-sided inlay, thus creating elegantly decorated luxurious borders. Top and bottom sections are a sheen satin material. A thin wooden bar is attached to the top with a ribbon used for hanging purposes. There is a plastic cylinder attached to the bottom giving it necessary weight to hang properly.
Shop Now
Custom Scroll Box
All large scrolls will come in there own customized unique box.  These awesome scroll boxes are made from a silk lace brocade. The inner lining is made of a satin material. There is metal clasp on either end to secure the lid, and a metal handle for easy handling, viewing and storage. User friendly for carrying, stashing and displaying. Asian countries have used silk scrolls to preserve and present watercolor or ink painting and calligraphy for centuries. 
Shop Now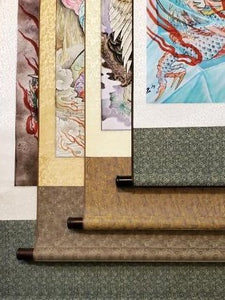 Well Crafted
Each scroll is backed and mounted with silk paper using a paste before the borders are constructed. The scroll is hung on the wall to dry and stretch prior to completing the back.  Attaching the wooden rod and plastic roller at either end completes the scroll to perfection.  
Shop Now
Thoughts by Joel Long
Most people would not consider themselves gamblers, and rightfully so, as most people are not.  However, never let it be said that each and every one of us is not a risk taker.  We all take risks daily and calculated or not most of us seem to manage.  Every one of us has kind of just learned to manage.  I started tattooing in1992, always wanted to since the 10th grade.  You see, I was never content managing or being managed.  Never wanted to hurt others, but always wanted to do things my way with painting and images I enjoy bringing to life. These images really seem to speak to me and for me.   
Nobody tells a tiger what to do and hawks and eagles don't ask permission to hunt.  Nature is full of risks and the challenges never end. So, don't forget to take a gamble every now and then and keep in mind that no one ever got anywhere without at least taking a calculated risk, and a tiger does as a tiger does.  We hope these paintings will bring out the natural self in you and inspire you to not be swayed on your path or content to just manage weather you are a gambler or not.  My brother and I are taking a gamble.  We thank you for your support and encourage all of you to get out there and make all of your dreams come true. 
Paintings in production
Amazing instincts
Leaping for the hawk through fog
Aware Eagle